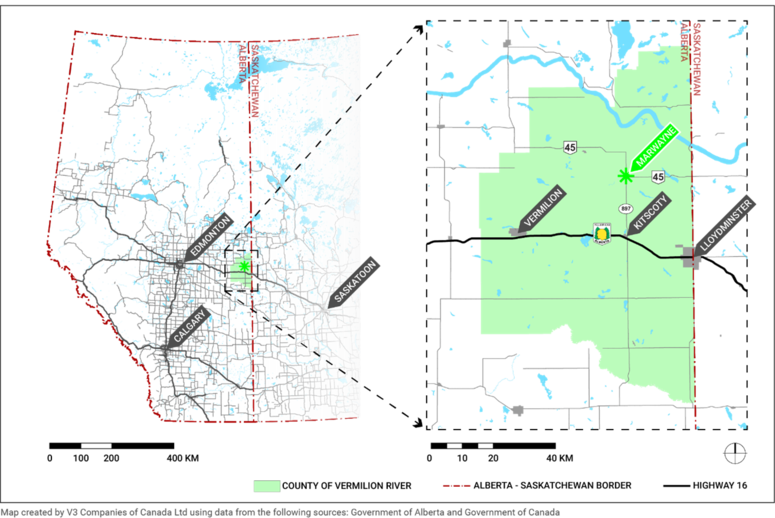 The Village of Marwayne is located in the County of Vermilion River, approximately 44 kms northwest of Lloydminster, and 240 kms east of Edmonton . The community is situated along the south side of a former Canadian Pacific Railway line and approximately 18 kms north of the Yellowhead Trans-Canada Highway 16 which connects to Lloydminster, Edmonton, and beyond. Alberta Highway 45 connects Marwayne with the Saskatchewan border to the east, and Alberta Highway 897 connects Marwayne with the City of Cold Lake to the north and the Village of Kitscoty to the south.
Throughout most of the 20th century, agriculture was the economic base for many of the residents of the Village of Marwayne and this industry remains the economic backbone for the surrounding area.  The past several decades has witnessed significant economic diversification into the manufacturing and oil and gas sectors. Oil and gas exploration and pipeline development occur in the vicinity of the Village of Marwayne.
Situated on the direct corridor to Cold Lake (Highway 897), Marwayne is located just below the southern tip of the Cold Lake Oilsands area. During Alberta's boom years up until 2014, oil and gas drilling activity was very strong around Marwayne. Marwayne's major businesses are involved in providing services to the region's primary industries, such as agriculture, oil and gas and related products. 
The surrounding region is also referred to as "The Lakeland Region" due to its numerous lakes and rivers. Lea Park is a ten-minute drive north and Whitney Lakes Provincial Park is a half-hour drive north. The lakes and rivers provide the community with an opportunity to take on a larger role as a seasonal service provider for tourists in the region.